Main Content
The Winston-Salem Science Bridge
Bridging the community through science, technology, engineering, art, and mathematics activities.
Date
Saturday April 17, 2021
Time
11:00am – 3:00pm
Location
Long Branch Trail at the Innovation Quarter
(455 Vine St, Winston-Salem, NC 27101)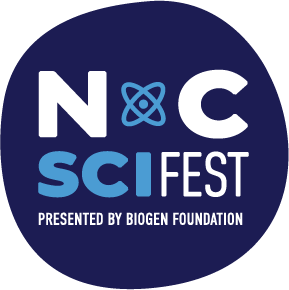 Visit the NC Science Festival Website
If you are a Winston-Salem community partner who would like to host a booth, please email Yassmin Shaltout at shalyh16@
null

wfu.edu by March 17, 2021.
The Winston-Salem Science Bridge will be a free of charge, outdoor, knowledge-based fair with booths set up on both sides of the Long Branch Trail walking bridge located in downtown Winston-Salem's Innovation Quarter. This strategic location symbolizes a bridging of ideas, resources, and opportunities between Winston-Salem's many science-related entities and the city's community. A portion of the trail will be lined with stands and booths offering a variety of specialties where STEM-oriented researchers, educators, and those who may not traditionally be considered part of the STEM community, will be present to interact with and display Science in new and innovative ways. STEM booths, as well as art and cultural activities related to STEM will be located along the trail, each featuring some of the unexpected and surprising ways that Science is present in our daily lives!
The Science Bridge will begin at the 3rd street entrance to the Long Branch Trail where community members will be greeted and receive information including a brief description of each stand or booth, along with their activity's STEM field, and the STEM partner's contact information. As guests walk through the fair, they will be invited to partake in a series of activities, lessons, and crafts led by each STEM partner. Winston-Salem is saturated with STEM research, education, and innovation. By incorporating multiple community groups that exist at the intersection of art and Science, The Science Bridge event will create a uniquely comprehensive STEM fair that caters to all interests!
Event participants are required to pre-register and select a 30-minute time slot for their attendance. This registration is merely an effort to control the gathering's size in compliance with state public health measures and is accessible through the public form below and is free of charge.
Public parking for the event will be available in the two separate public parking garages that are less than two blocks from the event. Handicap-accessible parking will be reserved at the entrance of the event. In the event of inclement weather, portions of the event will be recorded and broadcasted virtually.