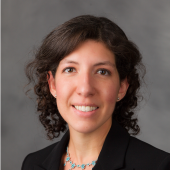 Amanda Tingle
Office Manager
Wake Downtown, 1601
(336) 702-1926
tingleas@wfu.edu
Amanda Tingle coordinates logistical details for Wake Downtown, including room reservations, building/parking access, and financial transactions. Ms. Tingle received her B.A. degree in Art History from the University of the South (Sewanee) and a B.S.A. degree in Biological Science from the University of Georgia. Prior to coming to Wake Forest University in 2011, she was employed as an Administrative Specialist at the University of Georgia's Carl Vinson Institute of Government and as an Executive Coordinator for the University of Virginia's Department of Biomedical Engineering. Ms. Tingle spent 5 years as an integral part of the Wake Forest Scholars Office. In 2016, she became the first Office Manager for Wake Downtown.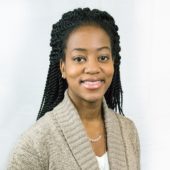 Alana James
Associate Director, Community Engagement
Wake Downtown, 1605
(336) 702-1929
jamesam@wfu.edu
Alana James leads Wake Downtown's community engagement strategies, working to identify partnership opportunities that effectively promote and support mutually beneficial university and community priorities. Activities include coordinating STEAM exploration events with local K-12 partners, co-curricular opportunities with peer institutions and providing entry points for community members to access partnership, mentorship, and other resources. Prior to this inaugural role at Wake Downtown, she served as the Director of Community-Based Collaborations at The United Way of Forsyth County for nearly seven years. Alana graduated from Wake Forest in 2009 and received her MA in Management from the Schools of Business in 2010. An Ohio native, she fell in love with Winston-Salem as a student while volunteering and serving at community organizations as a member of Alpha Phi Omega.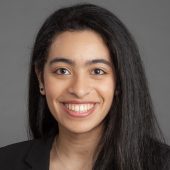 Yassmin Shaltout
Wake Forest Fellow, Wake Downtown
Wake Downtown, 1610
(336) ‬702-1934
shalyh16@wfu.edu
Yassmin Shaltout directs the Downtown Ambassadors student group and manages Wake Downtown's social media accounts. She also assists with community engagement and events, prospective student tours, and interdisciplinary initiatives, realizing the vision of Wake Downtown as a piece of Wake Forest embedded in the heart of Winston-Salem. Yassmin was born in Alexandria, Egypt and grew up in Winston-Salem, NC. During her time at Wake Forest, she pursued an Anthropology major, a Biology minor, and a Chemistry minor while also completing courses for the pre-med track. She took her intellectual skills abroad during the summer of 2018 to study cultural art-forms in southern Europe as well as during the summer of 2019 to research mental health stigma in Kathmandu, Nepal. Through her leadership roles in Women in STEM, WFU OCCE's Dash Corps, and independent community-based research projects, Yassmin has learned critical skills in community commitment, civic leadership, and engagement. She hopes to inspire future generations of Demon Deacons to be civically minded by using her resources, knowledge, and passion to connect Wake Forest students with the City of Winston-Salem.